Holistic Therapist, Reiki Master, Psychological Intuitive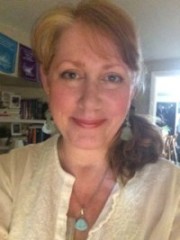 DO YOU SEEK BALANCE in body, mind & Spirit? Learn about what Ellen Farrell, Holistic Therapist discovered: the bridge between Energy Systems: TCM (meridians, elements) & Ayurveda (chakras): Core Star Matrix Healing – watch her video ...Ellen is a seer of energies, past lives, guides, & Chakra Soul Stories. A Reiki Master (Reiki since '87) & Psychological Intuitive she's grateful to be back in her birthplace, NYC, writing, & sharing these gifts from Spirit. Begin now... with her Free, Recorded LearnitLive.com 1/2 hr. Webinar! This includes Ellen's 3 new Energy Exercises: Stay centered, clear, calm, & connected!

From Ellen... I love helping you through life transitions – back to your Core of truth & healing. I "see" your SOUL, past pain, trauma, emotional / energy imbalances, & status. Go deeper! With an Intake & 10 + hours, I "read" & anchor each of the 7 Chakras, & bring balance... complete the CSM Reconnection – & awaken Intuition, Heart, Core. As a mom of 3 (who has also gone through menopause), I'm also a great guide for pre- –post-natal, women's issues, & others, such as: pre-/post-op, immune system, lifestyle, communication, relationship, boundary, creativity, Spirituality. Get an Energy tune-up, Restorative session, or Go DEEP. Online, Phone, & In-Office sessions (NYC) by appt. only. Contact me for a free, brief eval! Basics: '83, BFA (Acting, MGSA/Rutgers), 1987-98 buyer / manager, Nutrition Industry; 2001 MA Psychology. I'm a meditation, Yoga teacher; & LPC/GA, Licensed Psychotherapist; 2000-06 Clinical Counselor, Savannah College of Art & Design (left SCAD to go into private practice, 2006); & 2007-11 EEM-AP, Eden Energy Medicine-Advanced Program graduate.
Let Your LIGHT SHINE – your Core Star is Divine! Part of the work is becoming aware of not only your own energies, history, triggers, emotional splinters, but also the environment we live in. By '86, when I got married, HFCS had replaced cane sugar (& bromine, an endocrine disruptor, had replaced the essential nutrient iodine, in flour), which affects hormones. I'd ended an abusive relationship the previous year, & am very sensitive anyway, so being already vulnerable (from stress), this affected me greatly. I started to get sick – the first symptom was skin problems. No Dr.'s knew how to help me then. I searched for knowledge! At that time, I became interested & worked in the Nutrition / Health Food Industry (which continued 10+ years). Over the next few years, I came to understand I had Leaky Gut & Chronic Fatigue (CFS), resulting in infertility. Fertility treatments did not work, but in LA, I found Holistic Dr.'s who helped me clean out toxins, & rebuild the microbiome. This gave me enough of an immune system boost to finally get pregnant. I'd been doing Reiki on myself, & this was powerfully healing too... finally, I got well! We had our firstborn in 1991.
Fast forward to '96... what the heck are GMO's? We had no idea that GM foods meant foods that are sprayed with toxins, but DO NOT die. We were now were blessed with 3 young kids, & things got very busy! By '98 I had also entered a Masters degree program... & GMO/Roundup & other toxic chemical use was growing. They were being used in factory farms, animal feed, & were becoming a stronger presence each year. It took years to realize that our food supply was becoming more toxic in the USA, & that it was making a LOT of people sick. There continue to be increases in allowable toxins, & the amount sprayed of these chemicals in the environment (& in us) keeps increasing. GMOs/Roundup (glyphosates), limit uptake of all minerals, & kill good bacteria, but allow toxic bacteria to flourish in the gut!!! By 2014, I had STRESS: menopause, job changes, empty nest, moving from Savannah, loss of a parent. Moving to a more toxic city made me have to re-evaluate everything. I kept to all organic at home, but in NYC I "cheated" too – who doesn't love NY pizza? I had soy in regular Chinese restaurants. Oops. No more. What do you eat? What are your stressors? Now we have biofilm (really big absorption problems) in the gut because glyphosates accumulate, & are sprayed on wheat to harvest the crop. Know that overwhelm makes us more vulnerable to illness. It can increase gut problems, lead to decreases in B & C vitamins, & deplete minerals like magnesium – more stress! Maybe you can relate? Please do try to buy local, organic foods... & begin to identify where you can create more balance in YOU. Today, we need new skills to transcend, & maintain health. I learned to regain my equilibrium again, & you can too.
I'm certified as Clergy, Ordained in the Church of Spiritual Humanism, which recognizes "the validity of all peaceful religious practices ...developing the spiritual nature of humanity." Ellen means Light; my middle name, Joyce = Joy… this reflects perfectly what I see ...my clients feeling Light & Joy as a knowing in their Soul. I always call upon the highest level of love, wisdom & healing & I Love... helping you know true wellness!
Feel more peaceful, centered, clear! Wishing you Peace, Love, & Joy. Namaste!

Click here to ask Ellen a question.
Click here to sign up for Ellen's Email Newsletter »
About Ellen – Ellen's Integrative approach
My Intuitive & Empathic skills have been present since I was a child (in the early 60's). At about age 4, I had my first past life memory. Daydreaming, looking at the clouds, I saw myself as a young Asian girl. I wondered how I could still be "me" even tho' in another body. I also saw, in dreams, the loving, Giant Spirits who looked over & guided me as I made passage into this life... I've had many powerful insights from remembering other lives, & am conscious of working directly with Spirit realms since I was a teenager. I began experiencing premonitions, noticing being clair-sentient, clair-audient, psychic... read more...