By Ellen Farrell, MA, NCC, LPC, EEM-AP

There are seven energy centers in your body, often called chakras, and this information is based on ancient writings from Sanskrit and Ayurvedic knowledge. The practice of Yoga and meditation developed around the concepts experienced by seers of these energies at least 6000-10,000 years ago, just as we have modern day seers like myself. The state of each chakra reflects the health of a specific area of your body – and your personal stories that relate with the different principles of each, and reflect your psychological, emotional and spiritual well-being. Every thought and experience you've ever had in your life gets filtered through these chakra databases. Each event is recorded into your cells. In other words, to quote Caroline Myss, "your biography becomes your biology." When chakra energy is blocked or misdirected due to "emotional splinters" as I call them, emotional and physical illness can arise. As I read each chakra, I see the stories and unresolved pain vs. healthy status in each. You may want to hold your palms right on your body (as we do with Reiki healing treatments), over the chakra where you need energy or healing; wonder where love did not show up, and send love to the past you that didn't get what would have been healthy. You can experiment with the idea of imagining what healthy would've looked like, and allow your earlier self to experience that by your conscious re-imagining of the events.
Exploring your seven power centers can help you see how they reflect what's happening in your body, and in your life to:
* – check in: where are you vs. where do you want to be?
* – Unplug from negative thoughts/perceptions
* – Live as a healthier, more empowered person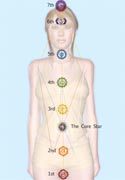 There are 7 major chakras although other minor or mini-chakras also exist, such as in nipples, palms, and soles of the feet. Colors are associated with each chakra, however these respond to life and many patterns, so are complex and may vary! The color usually associated with the root, or 1st chakra (base of the spine), is red. The colors from the bottom to the top (root to crown), is abbreviated as R.O.Y.G.B.I.V.:
How is your Earth connection?: 1st ~ Red – root; survival, sexuality; Nature connections
How do you interface with life?: 2nd ~ Orange – womb; Creativity; 3rd ~ Yellow – solar plexus; the flame of your soul
Synthesis of survival needs vs. spiritual goals/understanding: 4th ~ Green – heart; loving connections; 5th ~ Blue – throat; what's your P.O.V.?, option of expression
How is your Spirit connection?: 6th ~ Indigo – third eye; seeing with clarity; Transcendence; 7th ~ Violet/white – crown; connect with Spirit
7th – Live in the NOW, Come into the Fullness of your Being as a Spirit with a body!
Our Divine connection enters our physical life. Being present in each moment allows us to have clarity, to be free of fear ans aware of but not controlled by survival fears; present to make wise choices; and open to the beauty of each moment. Listening to higher wisdom, guidance, prayer, and meditation. Celestial perspective on the human condition results in inspiration, humanitarianism and trusting, your life's on the right path. You are not your past; you do not need to fear your future. Only in this moment can we awaken to higher knowing and connection. Spirit wisdom; Angelic guidance, heavenly healing energies. When you are mindful of your Chakras you are better able to access and maintain a healthy and balanced life!
6th – Balance Intellect and Intuition – Seek the Truth
Open your mind. Testing your ability to measure your beliefs, thoughts, and attitudes vs. what is known at an inner level; illusion vs. truth; what is seen vs. the invisible.
5th – Your voice, your Power of choice
Let the water of life flow with clarity. If you do not meditate, how do you hear Spirit to bring balance life's overwhelming demands? The throat chakra reflects information from all the other chakras to build/maintain one's energy – it is the intersect between spirit and Form. Speaking up, ability to express one's voice, dreams, personal needs; to know one's truth – and trusting in and listening to our connection to Divine Will delivers the best outcomes.
4th – What's in the garden of your Soul? …what is your most beautiful dream for your life? 
The heart is the middle chakra, mediating between body and spirit and determines their balance. We may experience love and compassion here – or hatred, anger, resentment, jealousy, or self-centeredness, fears, lack of forgiveness, or lack of compassion. Colors here may also be pink, gold, or deep maroon.
3rd – Do you know you matter? Is your inner fire a lantern? …an inferno? … is the fire burned out?
Who are you re: you? How do you manage your personal power? Here we find our personal ethics and integrity, the awareness of individual boundaries vs. tribal identity. Being responsible, knowing your true self vs. acting out of fear of others' opinions.
2nd – How do you see yourself and manifest your Soul in the moments of your life?
Who are you re: others? This is the center for the innocent pure self, personal power, creativity, finance, and issues of survival, and control; vs. infinite universal potential. Reproductive issues, and one-on-one relationships. How do you view yourself in the world? Do you feel the infinite potential of life, or do you feel stuck? Live and learn!
1st – We are all connected in this NOW moment.
This is the foundation of health. Connection to family beliefs supports the formation of identity – a sense of belonging to a group. Every choice you make and every belief you accept as truth influences you. Who ae you as an individual? You are connected to all life; Earth energy, Nature; animal totums; Ancestral line… does your blood boil, or invigorate you? I see Sexuality issues here; feeling grounded happens here (from the root thru the heels) when we feel safe in our body.
Did you know: the chakras' electrical oscillations in the skin vibrate at 100-1,600 cycles per second, contrasted with 0 to 100 in the brain, 225 in muscles, and 250 in the heart. From a study by Valerie Hunt, summarized in Vibrational Medicine by Richard Gerber; quoted in Energy Medicine, by Donna Eden (Chapter 5, p.137).
Digital Art by Doug Farrell.