Poetry, Books, & More
Ellen Farrell Holistic Therapy
Products – Poetry, Books, & more…
Learn about Core Star Matrix Healing – & why I am writing about it (currently editing).
Plus, see my 2014 completed writing project: Core Star Matrix – Video
Here's a comment from a contributor to that writing project, after receiving the first ed., Indiegogo Perk e-book, my 1st book of poetry, Stories From my Heart…
"Hi Ellen, I just finished your book of poetry and wow, just WOW! I couldn't stop until I was done. Very beautifully written.  I am so grateful you shared that with me.  You are certainly inspiring on many levels and I am forever grateful to have you in my life – reading your poetry helps remind me why I felt so comforted when I met you, stepping out and trying a different form of therapy for some reason, felt so right at that time…
It just reiterates why it is important to follow my heart and instincts at all times. One of the most important steps I've ever taken. I'm only just starting to tap into my potential, thanks to you… I see big things for you and cannot wait for you to finish writing the current book.
😉 Hugs and love ~ Kim"
Stories From My Heart poetry is now available for a limited time, here. Email link is being set up today. It is my pleasure to offer these messages from Spirit. The remaining poetry books are being formatted, & will be available soon.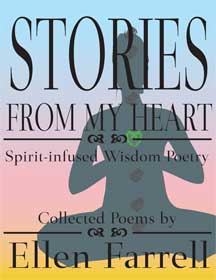 Stories From My Heart, a compilation of Spirit-infused Wisdom poetry – heart connecting messages about reverence for the Earth (the sentience of all living beings), Love, & Hope.
If you enjoyed this book – & will like to contribute to my work, & to support my current editing, & future writing – thank-you! I am grateful for & appreciate all donations. To donate via PayPal, click the "Donate" button below: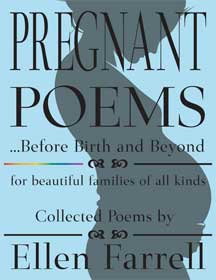 Pregnant Poems, Before Birth and Beyond… for beautiful families of all kinds. These stories encompass the cycles of life – the joys, losses, love, & lessons of the journey.
Merging with the Divine, poetry on my personal journey, connecting with Spirit, life, growth. The stories of our lives are tools for learning!
Coming soon! Ellen's PDFs will include:1. My 3 Basic Energy Exercises: Anchor & Ground 2. Heart Zip; 3. Snap & Sweep; Ellen's Chakra & TCM Meridians & Elements Diagram/ Descriptions; Core Star FIELD work & Meditations; Flow Re-Set, & more!
*BOOK – now being edited about: Core Star Matrix Healing

We Are One… a Manual on a Unified Energy System – how we're divinely wired for Divine Connection …plus (even more) new Energy Medicine Techniques & Exercises
I am grateful for the opportunity to share what I see & have been learning & teaching about new energy exercises since 2009/2010 – ways that the Energy Systems connect. These help us feel more centered, grounded, & resilient. Spirit connection = consciousness! It can lead us through pain, back to love & harmony (once we know how to fully get to there!). It is inevitable once we learn how to listen, that we will heal (shifting old habits in the body, mind, & in the Energy Systems) – & act on our Core knowing. This is my story of how, through seeing the deepest energies of the Chakras, I have helped my clients heal deep trauma at the Soul level, to re-connect, & evolve to live more deeply in their beautiful potential. We are all, in our Core, pure Peace, Love, Wisdom, & Joy.
…my future project: Healing from the Core OUT: The ABC's of Health and Wellness
Learn about my work: alignment, Breath, Core – how I approach healing as a practitioner of Energy work + my own story about how I came to listen to Spirit as an Energy Medicine Intuitive. Coming to understand & overcome immune system dysfunction (through the lens of being a 'sensitive' since childhood), through a journey of awakening, including influences from my early BFA/Acting training, personal relationships, & work in the Nutrition Industry. This led me to connect with alternative & complementary healers – & to develop a new approach to living & being. I will share my amazing experiences of Spiritual, past life, & psychic connecting (with the natural world from an early age) – that helped me to process & gain insight from these events. The dynamics of the effects of stress & trauma on the body-mind-spirit will be addressed from a personal perspective, as well as our capacity (through the experience of these difficult & at times painful events) to move toward our human/soul potential to merge with the Divine.
I am also quoted four times (Ellen Farrell, MA, NCC, LPC on pps. 70, 74, 189, 192) in the book "Making Marriage A Success: Pearls of Wisdom from Experts Across The Nation" by Jaleh Donaldson – Published by Booklocker.com, Inc. 2011 <I was previously of Savannah, GA, & listed in this book as such – currently in New York, NY since 2015; Also available from Barnes & Noble & Amazon @: http://www.barnesandnoble.com/w/making-marriage…/1106609998…
http://www.amazon.com/MAKING-MARRIAGE-SUCCESS-Pearls-Experts/dp/1614345252