Energy Work
Ellen Farrell Holistic Therapy
About the Work – Energy Work
Everything is Energy!
A key part of who I am & the work I do is my connection to the unseen (for most) world of Energy & Spirit. I love helping you remember who you are at your Core of pure peace-love-wisdom-joy… your soul, CORE Star–Divine Spark, highest potential, & truest loving self. When your energy is happy/in harmony, you will be more grounded, vibrant, centered – healthy.
Do you need an Energy "Tune-up"?
I feel/see energy (such as inner; inter-relationship dynamics). As we discuss issues in sessions, & as I read energy systems, I may get intuitive info from guides, passed over loved ones, or early or (earlier) past lives; about your orientation to the world, self, relationships, emotionally stuck places or events. Each session, we check in first. You're encouraged to bring your questions!
A key part of my work is the reading/ anchoring your Chakras, which is a cumulative harmonizing effect as each of the 7 Chakras is awakened; then connecting the Core Star Matrix Line energies. This work is my forte! It will have a profound impact on you, creating inner shifts that bring balance, changing your orientation to life from the Core out. I do Energy kinesiology checking Meridians, Chakras, Aura, Energy flow, etc., + offer healing techniques that allow shifts to occur, moving you toward a more profound state of balance. I see your Soul, & work directly with Spirit guidance from the highest level of Love & wisdom.
Asking questions about the process is important! Wonder about why/what/how you feel, think, act …trust the still small voice within. It will get more sure & clear the more we reconnect your energies, & the more you pay attention to it.
It's always a joy to see Donna Eden, Energy Medicine pioneer (& mentor in my Advanced Energy Medicine training). I was a NICABM Work Scholar from '06-'11 & at their last official Annual Conference (December 2011), I was processing the emotional closing events with Ruth Buczynski, PhD (President of NICABM), & Donna shared on my behalf, "Ellen is an amazing Seer!"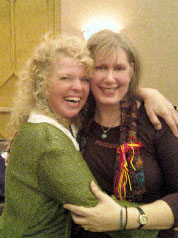 Here I am, with Donna Eden in Phoenix, AZ, after graduating from the the 2 year Eden Energy Medicine (EEM-CP) Certification Program. I went on to graduate from the 4th-year, becoming an EEM-AP, Advanced Practitioner. It's hard sometimes to know who is legitimate – so many people make claims of seeing energy, guides, etc. When Donna first met me in 2005 at NICABM, she peered into my Aura/Field, & said "Angels" – I used to call my work Angelic Healing! She saw me & my abilities too. I'll always be grateful.
All I do is in service of Spirit. I believe the abilities I've been gifted come from lifetimes of true curiosity, wonder, & love of Spirit. I love knowing the Divine interface that we ALL are. I've always asked a lot of questions, & have a thirst to know more (ask my parents – it drove them nuts when I was a child!). Dr. Luc DeSchepper, a brilliant healer (MD, Homeopath, Author, Teacher, Acupuncturist), once stated: (as we were discussing my first born – a very curious little boy at the time, 1992), "Curiosity is a sign of intelligence!" …I completely concur.
During Reiki/Energy in-office sessions, the Deep Chakra work (Connecting, Clearing, Balancing) is visceral, as you feel deep relaxation, healing, enhanced awareness, & shifts in energy. Many clients report greater intuitive abilities after completing the work. This is a natural progression of clearing, anchoring, connecting, releasing blocks & trauma in the energies – & optimizing them, creating deeper, cohesive layers of harmony.
As I work, I feel very directly what's going on (on many levels, physical, kinesthetic, emotional, relational, visual, auditory, sometimes I even smell scents!). Once I even smelled/tasted Marzipan while working on a client's Chakras as we were discussing his childhood, and then he reported that a favorite memory was his father bringing home a Marzipan candy! I often hear music, lyrics – or art/imagery, numbers of ages that are relevant to events. We use all this wonderful information to help shift you into the healthiest status possible. My intention is always to access the highest level of love, wisdom, & healing for each client. I teach you to work with your own energy: through corrective breathwork, easy exercises, visualizations, meditations, & other healing energy techniques (working in many Energy systems).
Integrative massage table techniques are used (fully clothed, working with Meridians as with Acupuncture, but with no needles). Chakra Reading, Balancing, Clearing (while receiving Reiki/Energy work) is a major focus. As I see the status, & what is stuck, we work through it, processing what happens every step of the way. We also work with Meridians, Elements, Chakras, Aura, Radiant Circuits, Spirit Points, etc.). The Chakras are databases – I 'see' the status/stories there, communicating with & reading them. Shifting into healing at deeper levels, when ready, the Chakras anchor/stabilize into the Core, Divine Spark. This is Core Star Matrix Healing (CSMH), a bridge between Chakras & Meridians. It prepares all your Energies to be ready for the Matrix Line Re-connection (see CSMH page for more info on this system & the 3rd eye upgrade which it facilitates!).
Info may come in related to Energy systems, guides, past/other lives, & other  personal issues related to stuck pain. This work addresses how your history, environment, or trauma affected you. We address what was healthy, or not – & what you accepted as truth (which is a lot when we were young!). This affects your body-mind-Spirit in the NOW. I use the kinesiology (energy checks) to help the client feel & measure energy flow as it relates with thought habits, others' energies/staying clear, & how emotions & substances affect you. Also:
enhance/correct energy flow & connection at Core levels
shift, heal, re-connect, anchor the energy of the Chakras
Chakra balance + Meridian/Element may be checked
release blocks, reduce pain/raise energy levels
learn easy energy balancing exercises & meditation/visualizations
awaken insight/develop greater consciousness, clarity, peace, joy
identify/understand what's in your windows to the SOUL
bring balance, awareness, compassion, self love
strengthen/establish healthy energy boundaries
I am happy to work with clients who want to experience this process! Enhance your personal journey of inner work. This is also a great adjunct in your diagnostic work with another practitioner or therapist when your work there may have reached a plateau.
You have the option of exploring at your own pace, or signing on to do an Intake session to fully review deeper issues that are at play, & develop a treatment plan. The ideal to me is for me to check all energy systems, read each Chakra, correct/Reconnect the Core Star Matrix Lines (CSML); then to help with integration, provide maintenance follow up work. Going deeper also means identifying thoughts & energy pattern/habits (although Reiki/EM is woven into all levels of my work). My feeling is that everyone can benefit from this work. It will evolve your SOUL. Either way, you have a great menu of options, which may be done one at a time, or however you need (online/phone services may be combined with in person sessions).
Please contact me if you have a question about what will be a best fit for you.
The EM, and Chakra/Reiki work is also a great tool for preparation; quicker healing pre- or post-surgery, for identifying, and healing emotional trauma (abuse issues); in coping with major life transitions such as marriage, divorce/relationship break-ups, fertility issues, pre-, during, post pregnancy, miscarriage; & other major life transitions such as: death of a loved one, Empty Nest Syndrome, Menopause, or starting/ending work/school, travel, family concerns; also immune system and relationship/boundary issues.